Lets face it life is hard and its not perfect. We don't get a guide book on how to handle the emotional state of our children. Everything is fast paced and living on this planet is far from easy!
How we interpret the outside world in our own thoughts, behaviours, feelings and body that doesn't always go to plan. Navigating through life as a dependable child or young person is hard. As parents we have a million and one things to think about and sometimes we do not see things happening until we hit a crisis point. These emotions can manifest in many ways and relationships can break down.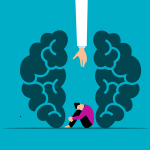 NLP (Neuro Linguistic Programming) therapy in Telford situated just off junction 7 off M54 is an alternative to other therapies e.g. Counselling. It is a much quicker therapy to change state of mind and has a proactive approach (similar to Cognitive Behavioural Therapy – CBT). NLP use practical tools and techniques that work with how we use our state of mind, how we talk to ourselves and how we interpret life events.
One of the most common mental health problems in children and young adults is anxiety which comes in many forms; it can be a long-term condition or suddenly appear out of nowhere. For example:
Social Anxiety – Fear of meeting or speaking to people, worry about humiliating yourself, avoid going out.
Generalised Anxiety Disorder – Restlessness, irritability, lack self-esteem, difficulty concentrating.
Panic Attacks – Shortness of breath, feeling of outer body experience, chest pains, shallow breathing.
Separation Anxiety – School refusal, 'clingy', distress anticipating being away from family members or home.
Phobia/Fears – Irrational fear of an object, situation, or location.
OCD (Obsessive Compulsive Disorder) – Arranging things or organising things in order, washing hands more frequently, repetitive negative thoughts.
Working with an NLP child therapist in Telford your child will build techniques and strategies in a simple way and can immediately action. This will in turn help them enjoy life and be able to face what the world presents to them, leading to better life choices, increased confidence, improved academic results and happier relationship-building as they grow.
Email: Louisa@NLP4Kids.org
Call: 07966 819194
My office is based in Telford, Shropshire TF1 area and easy access from Shrewsbury, Shifnal, Newport, and Wolverhampton (Junction 7 off the M54)
I also offer online sessions via Zoom too.